WHO WE ARE
Located in the heart of downtown Gainesville, FL, Wunderland Custom Tattooing is a premier location for high quality custom tattooing. Wunderland opened in the summer of 2015 by Eric Jazvac and his longtime friend and business partner Vincent Fiorello. Whether it is something absurd, Japanese, or comic book related Eric, along with Mark, Zach, Jade and Jeffy by his side, are making sure that you spend the rest of your life with memories of a good experience and a great tattoo. The front of the shop also showcases toys, artwork, enamel pins, patches, and more. All created by close friends of the shop. Stop by for a chance to play the claw machine and win a prize.
Vincent Fiorello:
Drummer for LESS THAN JAKE, co-founder of record label FUELED BY RAMEN, founder of PAPER + PLASTICK, WAXWORKS CANDLE COMPANY, and toy company WUNDERLAND WAR. Dad and husband, coffee drinker, toy collector, and frequent flyer.
Born and raised in south Florida, Eric started tattooing in 2007 at Big Brain 2 in Pompano Beach. Overtime he has been fortunate to be surrounded by some of the industry's best artists and with that inspiration and a tireless work ethic he was able to learn different styles and disciplines of tattooing. This creative combination has developed into a unique style of his own that is noted for both illustrative and realistic qualities. All of these qualities shine in now his very own shop that is Wunderland Custom Tattooing. This is where his work has been taken onto new heights, embracing the culture and creativity of Gainesville, FL.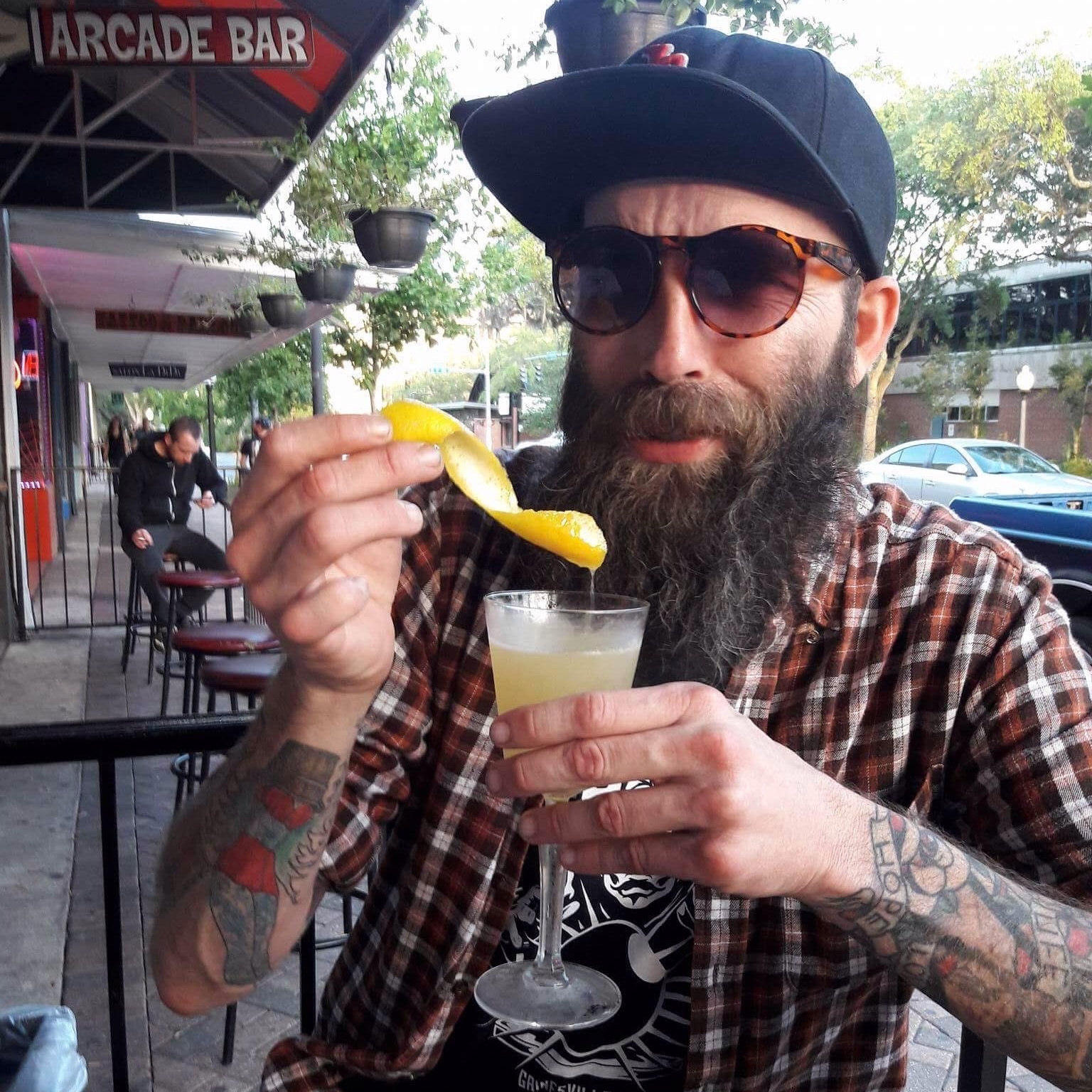 Mark Parrish's history is deeply rooted in the sunshine state. Born and raised in Florida he learned to swim at the late age of 8. At 23, after traveling the country (via rails, trails, and thumb), working on farms, joining the military, and being arrested for feeding the homeless with Food Not Bombs, he found himself at a crossroad. So he decided to take his love of illustration and pursue a tattoo career. He began learning how to tattoo in Tampa 15 years ago. After his apprenticeship and a few shops later, he decided to move to Gainesville where he has been tattooing ever since. Mark is the most lovable asshole at Wunderland Tattoo, his voice is like angel kisses and he learned to hate at an early age. His favorite tattoo style is illustrative realism with a touch of symbolism, the occult, strange, unusual, and unexplored. He takes his inspiration from Pinterest, Google, Yahoo, and you.
I started tattooing in 2008, at the age of 18, in Ocala, FL and apprenticed under Dean and Beth Strickland at Extreme Ink Tattoo.
To me, human interaction is one of the coolest parts of being on planet Earth; everyone has their own story and tattooing allows me to meet all types of people, from different backgrounds. Being able to create an image for part of someone's story is an honor and responsibility that I do not take lightly. I put the maximum amount of effort into every piece. Being chosen to do a tattoo for someone takes a tremendous amount of trust, and is the best compliment I could hope to receive. I'm proud to be a tattooer and to be part of Wunderland as they are the best crew I have worked with since entering the industry. I love my work. I love my family(I have an awesome little boy with my great wife, Emily). I love to travel and enjoy astronomy and philosophy. If you decide to come meet me, I look forward to getting to know your story.
Hailing from Baltimore, MD, Jeff began his tattoo journey at the young age of 10 when his older brother came home one day with a giant tattoo his parents hated and he loved! Jeff thought to himself, one day I will make people happy with tattoos.
With a love for many styles of tattooing, Jeff brings a great attitude and desire to create unique artwork to Wunderland Custom Tattooing. Whether you are looking for solid bold colors, delicate shades of black and grey, intricate line work, or just something fun and pop culture related, Jeff is eager to take on new and exciting projects.
Jade was born and raised in a small country town in North Florida where he got his start in tattooing. Coming from a creative family his artistic journey started at a young age, winning minor art contests, selling handmade comic books, and making art for punk bands. At this time Jade became interested in tattoo imagery. He knew he wanted to be covered in tattoos and in his 20s, after working various entry level jobs, including bussing tables at a steakhouse 3 different times (He's vegetarian!), he realized his only hope to be fulfilled would be to pursue a career in tattooing. After learning the ropes and honing his skills, Jade continues his journey in the town of Gainesville, FL where he is happy to be a part of the Wunderland Tattoo crew. Jade finds inspiration from the world around him, from tribal cultures, to religious and occult symbolism along with classic tattoo imagery.